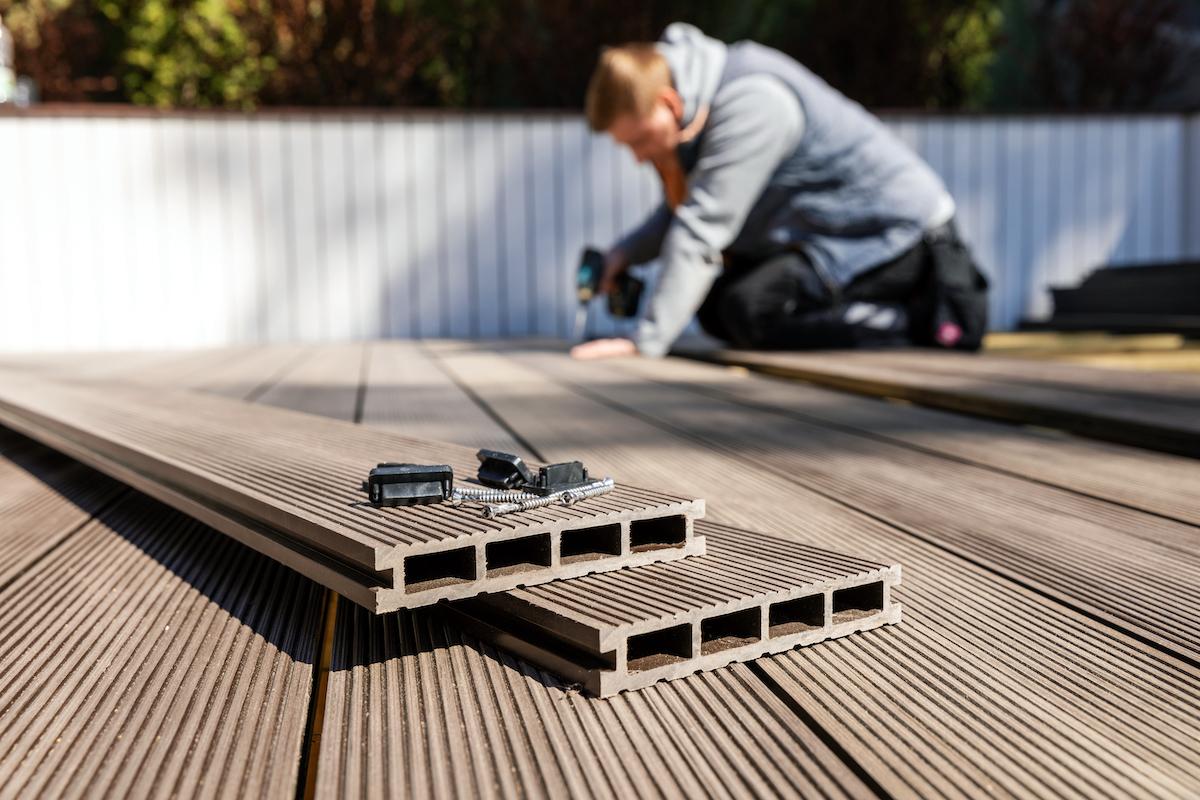 Frequently chosen due to how hard-wearing and durable it is and how much choice you get when it comes to styles, composite decking is made of a blend of high-quality recycled wood and plastic. Completely rot-proof and waterproof, this type of decking comes in boards, just like timber decking, and is laid in the same way.
Very long-lasting, composite decking can look just like wood decking and is a great choice for residential gardens, roof terraces, children's play areas and commercial spaces, as it is durable, anti-slip and very low maintenance. It comes in a wide range of textures, colours and finishes and can be laid in a variety of patterns to suit your style.
As it is made of sustainable, recycled materials, it's an incredibly environmentally friendly way to see the vision of your outdoor space come to life.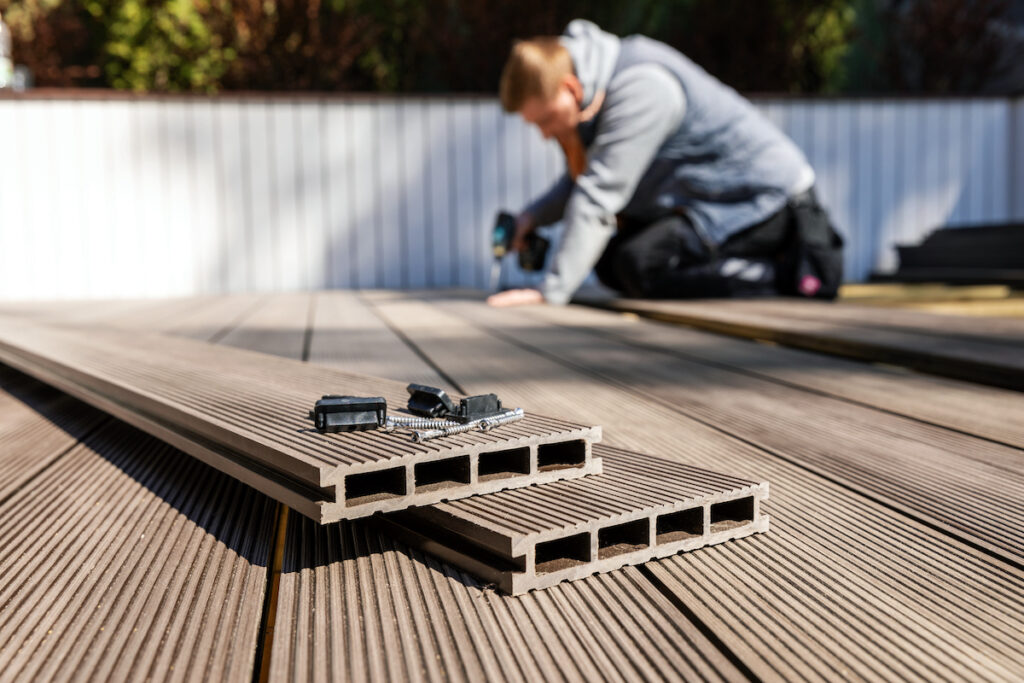 What are the benefits of composite decking?
The many benefits of composite decking include:
Low maintenance
Hard-wearing and fully waterproof
Will last for years
Pressure washer safe
Sustainably made from recycled materials
High grip, even when wet
Comes in a wide range of colours, textures and styles
Resistant to mould and fungi
Will not fade, split, rot or crack
Does not stain
Does not need to be stained or sealed
Adds value to your property due to desirability
What types of composite decking are there?
We sell three different types/brands of decking – Millboard, Trex and LDC composite decking: 
Millboard composite decking - we're proud to be a supplier of this premium decking range, hand-moulded from real wood giving a real grain look, engineered to last
TREX composite decking - this popular brand of composite decking is known for the choice and richness of its colours and for being made of 95% recycled materials
LDC composite decking - our own, affordable range of composite decking boards designed with our decades of experience in laying a range of brands and what makes the best composite decking at a great price, with a 10-year warranty.
How much does composite cost?
Our LDC composite decking boards are great value and budget-friendly, and the total cost depends on the size of the area you want decked and whether you're fitting it yourself or need our team of experts to install it for you. As it is so hard-wearing and lasts for many years without weathering and the need for additional maintenance or repairs, it's a great value-for-money choice and worth the investment. Browse our online range for current prices.
Does composite decking need maintenance?
Composite decking is so easy to maintain. Cleaning is as simple as using a hose and warm soapy water and a soft-bristle brush to sweep away the debris and dirt between any grooves. You can also clean your composite decking by jet washing with a pressure washer.
Although incredibly durable, don't use bleach or harsh chemicals to clean your composite decking as it can damage the protective coating that makes it so easy to clean with just soapy water.
It does not need regular staining or re-sealing, but you should keep your decking clear of fallen leaves during Autumn by sweeping with a soft brush. Avoid using a metal shovel when clearing snow or ice from your decking to prevent damage.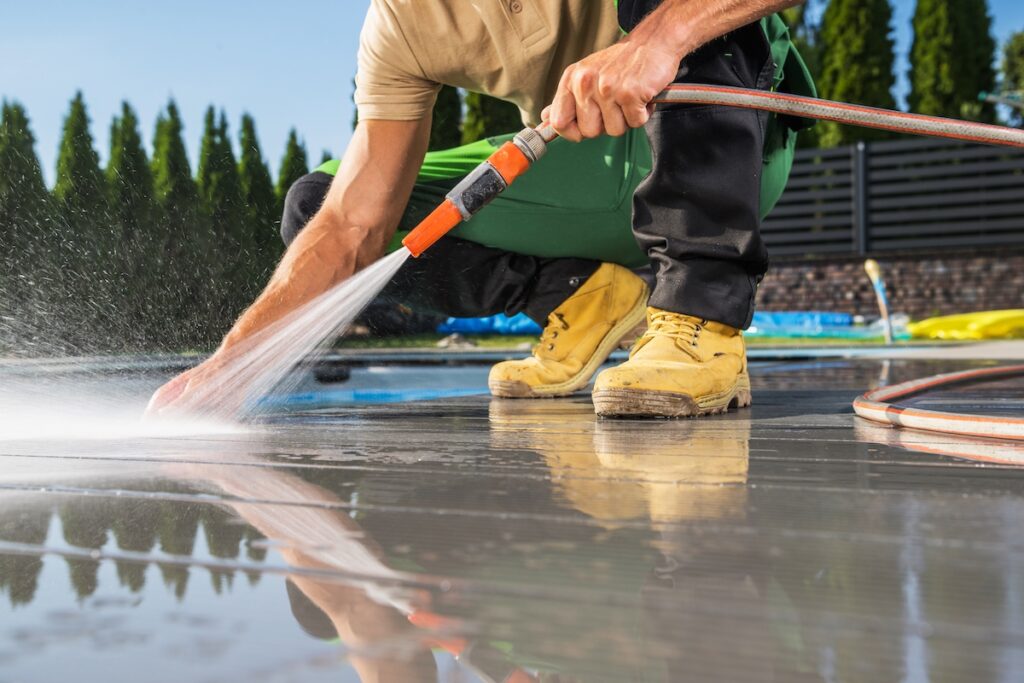 Frequently asked questions about composite decking
How long does composite decking last?
With good care and regular cleaning, your decking will last years, even decades. We provide a 10-year warranty with our own brand of composite decking board, LDC and depending on installation, our other brands come with a 5 to 25-year warranty.
Does composite decking fade?
No, composite decking does not fade. All types of decking we sell are UV light resistant so will continue to look as good as the day it was laid for years to come.
Is composite decking slippery when wet?
Thanks to its unique surface layer design, all our composite decking has the highest anti-slip properties, giving you the confidence to walk across your decking even when wet.
Does composite decking get hot?
The modern, high-quality decking we are proud to sell can get hot underfoot if in direct sunlight for a long time, however, will get no hotter than wooden decking. We always recommend adding shade with an awning, parasol or sunshade for a comfortable walk underfoot, especially for pets.
Can you paint composite decking?
Yes, composite decking can be painted but due to the colour-fast qualities, it shouldn't need to be, other than for a change of style. If you are looking to paint your composite decking, be sure to use the correct primer and paint to get the best quality finish that won't peel or crack.
Does composite decking expand?
As with most materials, there is some expansion and contraction of composite decking as temperatures change. This is to be expected with proper installation using the correct fixings.
Does composite decking scratch?
Composite decking is durable and rarely scratches but if you treat it without care it is not completely indestructible. If you are very heavy-handed with metal tools or furniture, for example, you risk damaging your decking. But this is rare if you follow maintenance advice.