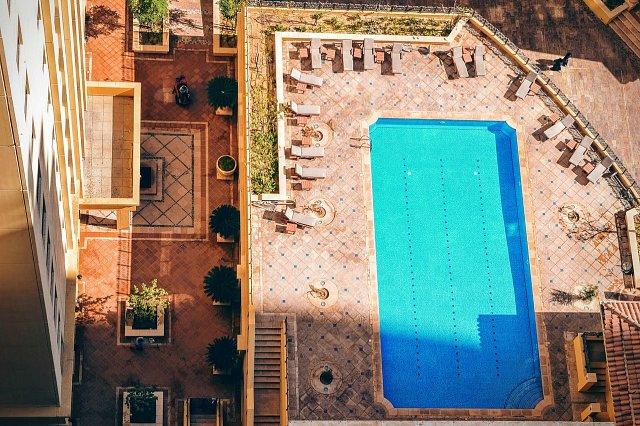 HERE IS OUR GUIDE TO FINDING THE RIGHT POOL DECK FOR YOUR GARDEN. GET IN TOUCH WITH US TODAY TO FIND OUT WHAT WE HAVE TO OFFER YOU.
It might be raining now, but this summer is meant to be the warmest Britain has had for over 40 years. What better time to start getting your pool ready for use on those scorching summer days? As you begin to clear the leaves from the water, and get it looking clear and inviting, consider the state of your pool deck. Safety is key when it comes to having a relaxing summer by the pool, which is why we have put together a list of materials for your pool deck you could consider to reduce the risk of unwanted accidents. Here is our guide to non-slip options for your pool deck.
Poured Concrete: Concrete is a very popular option when it comes to choosing a pool deck. It is a low cost option and provides a non slip surface. However, it does have its limitations. Concrete tends to crack in colder climates, so you may have to replace it every few years. It also lacks the aesthetics that other materials provide, giving your garden a sterile, grey look unless it is painted. Concrete is a great option if you are looking for a low cost pool deck for your home.
Hardwood Decking: Hardwood decking, such as Ipe, is a growing trend amongst modern pool owners. It tends to be a popular option because it adds a more natural feel to a pool, contrasting to more man made alternatives. If maintained correctly, it can last for well over a decade, however it will needs staining and sealing on an ongoing basis. This is a fairly high cost option for your pool deck, however the finish is exquisite.
Stone: Stone paving can be lain over poured concrete, and the paving stones come in a variety of sizes and colours. They are an attractive, long-lasting option for your pool deck. It will need to be washed on an annual basis to keep it looking attractive, much like a patio, however it should last way into the future. This is a high cost option for your home, so make sure you shop around for a good deal. Darker colours will absorb heat and be extremely uncomfortable underfoot, so be sure to go for lighter shades which will reflect heat.
Composite Decking: Composite decking is made from a mixture of wood and plastic, giving is a grippy, non-slip surface. It looks just like high quality timber decking, and is available in a range of colours and styles to suit your garden. This is not a cheap option, however, it will last for years, making it a great investment for your home.
Here at the London Decking Company, we supply pool deck solutions for our customers. If you would like to find out more about our hardwood and composite decking options then call us on 020 8200 0882.