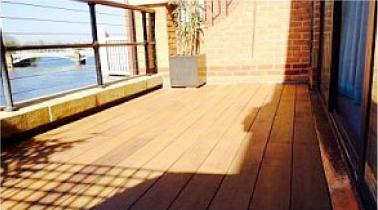 Although composites are the savvy choice when you want a low maintenance deck for a busy family garden, there are times when only a hardwood timber deck will bring a real wow factor to your garden. Investing in
timber like Ipe
may incur higher upfront costs, but this tropical hardwood will last for anything up to fifty years when properly maintained. But just what's so special about Ipe, and why should you consider using it for a deck with wow factor?
The warmth and beauty of timber decking
Ipe is also known as Brazilian walnut
and has a rich deep brown tone which looks absolutely spectacular when oiled to a sleek and glamorous shimmer but can be just as handsome if left to silver naturally with age bringing a very modern aesthetic to your garden. This is the king of the South American hardwoods and one of the densest timbers known to man. Virtually knot free, this beautiful wood creates decks that are incredibly robust and long lasting.
Hard as nails
Ipe scores 3,680 on the Janka hardness scale and also has extraordinary stiffness and bending strength. Timber decking crafted from Ipe is also highly resistant to insect damage and mildew and shares the same resistance to fire as materials like steel and concrete. Its sheer denseness means that Ipe decking boards will expand and contract less than other hardwoods while its durability means it's capable of outlasting alternative decking timbers and composites.
Sustainable timber decking
Responsibly harvested Ipe has very little environmental impact when it comes from forests under FSC stewardship. And because timber decking can be recycled at the end of its usable lifespan, it remains the ultimate in sustainable materials.
Keep it cool
As a natural material, Ipe has a very different feel underfoot to decking composites. Naturally cooler in summer, it's perfect for walking on with bare feet. In fact, Ipe is so dense, it won't crack or split like other timber decking, so there's minimal risk of getting a painful splinter.
Is Ipe the right choice for my garden?
If you want to bring a real sense of luxury and glamour into your garden landscaping, then there is no better choice for timber decking than Ipe. If you've decided on using this exceptional tropical hardwood for your garden deck,
contact us
and we'll be happy to see your decking project through from design to final installation.