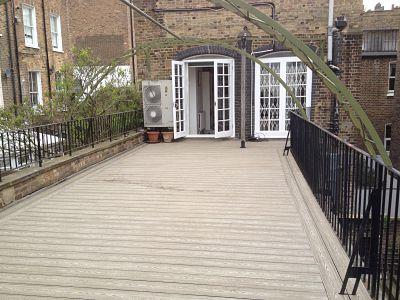 Decking trends are becoming ever more innovative, drawing their inspiration from interior design. If your deck is past its best, or it hasn't survived a battering from the winter weather, what better time is there to start thinking about creating your ideal deck this spring.
Add visual interest with curves
There's a good reason why most decks are square or rectangular. They're easy to construct and produce less waste. But if you want to add some real visual flair to your new deck, try adding sinuous curves that are both visually stunning and a clever use of a tight space. In fact, if you've been put off installing a deck because you think a rectangular shape would overwhelm your small garden, try creating an appealing curve to make the most of compact deck.
Low maintenance decking composite
The trend towards using composite materials for your deck is being driven by a number of factors: the rising price of timber decking, the versatility of composite materials and the trend for minimal and low maintenance decks that you can install and forget.
Decking composite
can be finished in a huge range of styles and is also anti-slip, a prime consideration when there are people of reduced mobility and young children in the home.
Explore interesting finishes for timber decking
Whether you want to experiment with blending different tones of the same colour for a washed out, casual vibe or to blend different natural stains for a very dimensional finish, there are no rules as to how you can finish your timber decking. In fact, for something truly out of the ordinary explore Shou Sugi Ban, the Japanese technique of preserving wood by scorching it - it's a dark, dramatic and totally unique look!
Stand apart
One of the biggest trends this year will be for freestanding decks that push entertaining and relaxing spaces away from the house and into the rest of the garden. Try pairing a freestanding timber or composite deck with a pergola for a shady and private spot, or the ideal al fresco dining room. Planters and privacy screens are other options to create separate garden rooms, and
rooftop decking
will continue to be a favourite option for city dwellers.
Think parquet
If you really want to dazzle with your timber decking and decking composite design, then take a leaf from your interior floors and think herringbone. The popular parquet style is also a hot trend for high-end decks. If creating a seamless flow between your living space and your deck appeals, then
contact us
and we'll help you design and create the ideal deck for spring.