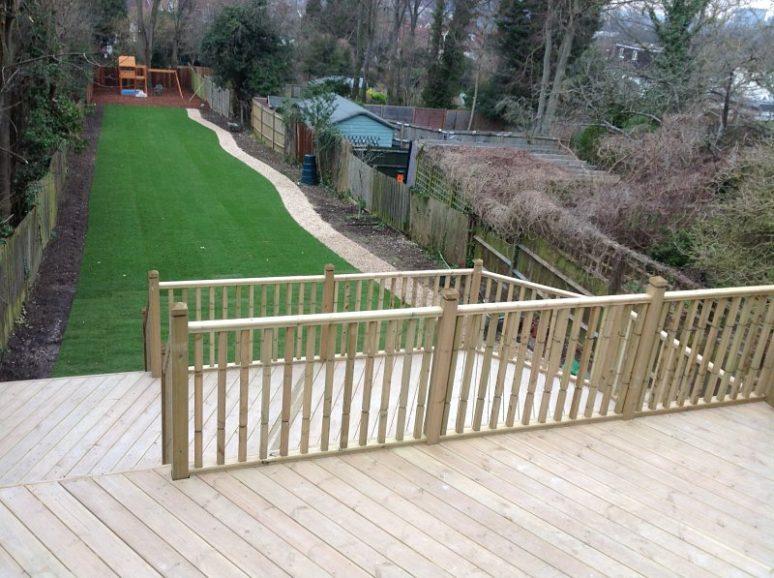 The garden deck is now an integral part of every garden. Outdoor decking timber allows you to enjoy your garden, no matter the weather. If you want to use timber decking, then you have two choices, those of hardwood or softwood. Below we explain about these different types of wood and which may be the better option for you.
Timber decking - what type should I choose?
So, what type of
timber decking
is right for you? Firstly, hardwood is not necessarily better than softwood, it is just different. Secondly, if you are new to building garden decks, then softwood is easier to work with as it is more pliable.
Different looks
Hardwood and softwood decking timber do look different to begin with, although once stained they can look fairly similar. Hardwoods tend to be a red/brown colour, or they encompass dark, golden browns. Softwoods tend to appear paler with a green tinge to the wood.
Timber decking durability
Timber decking is incredibly durable and most do come with a 15 year guarantee, so your deck should not rot or grow unsightly mould. Hardwoods such as oak and Iroko tend to rot slower than softwood decks. Having said that, properly treated softwood decks will last just as well as hardwood ones. If you want a low maintenance deck, then hardwood is your better option.
Cost of timber decking
Like many things in life, what you choose often comes down to budget. Which is the most expensive – hard or soft wood? It is a fact that softwoods are much cheaper than hardwoods. So, if you are working to a tight budget, softwood is the obvious choice. It will need a little more work but will look just as good as a hardwood deck.
How to protect your decking
There are various ways in which you can
protect your timber deck
. An oil finish can be used on both soft and hardwood. There is no need to varnish before you apply and the oil will penetrate the wood. Other options include those of: • Wood paints • Wood stains • Varnishes Remember, you will need to sand the timber deck before any of these options can be applied.