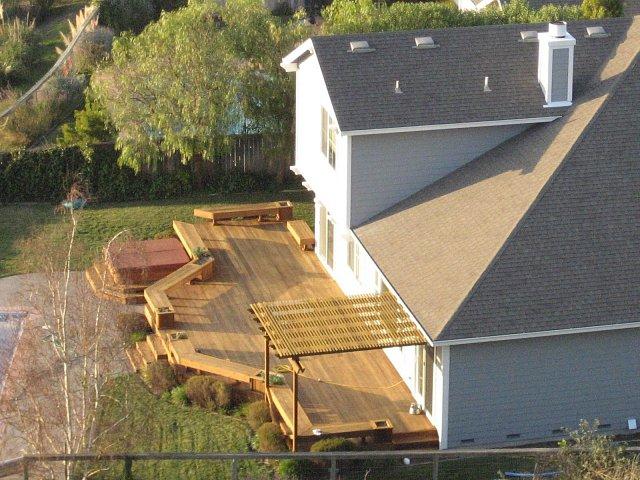 ROOF DECKING IS A GREAT CHOICE FOR THE HOME. IT LOOKS ELEGANT, IS STRONG, SAFE AND DURABLE, AND IS LOW MAINTENANCE.
Adding decking to a flat roof area offers many great benefits. If this is something you've been considering, there are plenty of convincing arguments to make roof decking a feature of your home.
Aesthetic appeal of roof decking
Without a doubt, decking on a flat roof area looks incredibly stylish and elegant. It's pleasing on the eye and will enable you to make the most of this outside space, according to your needs or desires. Decking is also very natural, and even when you choose composite, which is a mixture of wood and plastic, this still boasts a natural, wood-like appearance.
Add value to your home
Roof decking gives your dwelling extra space, which is a bonus if you don't have any other outside area. Decking that spills out from a master bedroom is also a very attractive feature. Should you decide to sell up in future, your roof deck could add value to your home .
Strong roof decking 
Decking is the perfect material choice for your flat roof area. It's strong enough to be used for this area, and can even support the addition of furniture, such as tables and chairs, ornaments, pots of plants or lighting. Nonetheless, it's always a good idea to check with a decking specialist first to assess the weight bearing capacity of your flat roof area, before you start loading it up with furniture!
Highly durable
The advantage of roof decking is that it is also very durable, so once you've got it in place, you can enjoy it for a long time to come. Durable decking options include: • Hardwood decking • Composite decking.
Low maintenance
You'll want to enjoy your decking as much as possible, whether for relaxing or entertaining, so it's good to know that decking materials are low maintenance. If you
choose composite decking,
for instance, this material is scratch, moisture and fade resistant, won't rot or warp and doesn't require painting.
Safety considerations
Many people who install decking on a flat roof area will be naturally concerned that the area is as safe as possible, particularly if it is based high off the ground. The beauty of choosing composite for your roof space is that it is a non-slip decking material, so with this flooring, you've got peace of mind that safety is covered. Contact The London Decking Company to transform your roof area into a living space.