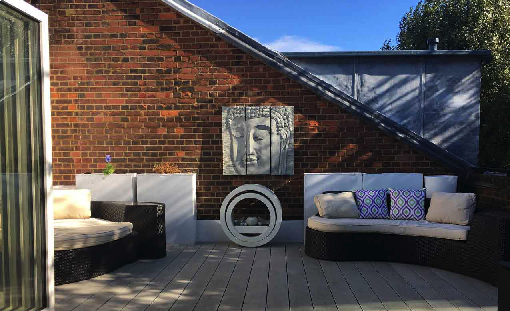 Rooftop gardens have become extremely trendy of late. From small and quaint, to large and lavish, they provide some much-needed outdoor space from above and, if you're really lucky, you'll benefit from a stunning view (let's face it, not many standard gardens can compete with that!) Having said that, rooftop gardens require a little more imagination when it comes to maximising the available space. Fear not – we're here to provide you with some inspiration and ideas. Read our following tips on creating the perfect rooftop terrace garden, along with examples of some of the decking installations we've completed in London.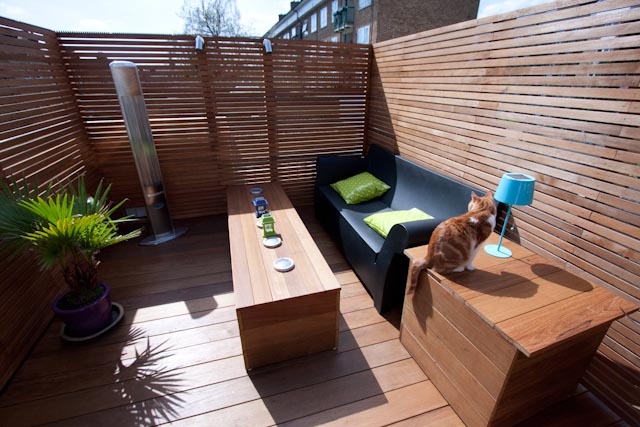 Somewhere to perch
First things first, and perhaps most importantly – you'll need somewhere to sit and enjoy your outdoor haven. If you're short of space, you could consider folding furniture you can get out/put away as you please. If space isn't an issue, you could opt for a built-in bench, outdoor sofa, wicker armchairs or even a hammock. Alternatively, floor cushions are extremely versatile and provide a more laid-back vibe – you can go as little or as large as you like. Whatever you opt for, make sure it's comfortable!
Plants galore
Potted plants, in particular, are a good option for rooftop gardens and there are plenty of varieties to choose from, as
the Royal Horticultural Society (RHS) explain
. Selecting a variety of shapes and sizes can help to create a quirky feel, while plants of the same shape and size will create a more uniform look. You could even grow your own fruit and veg up there. Before you embark, don't forget to consider the
practical implications
.
Create structure
Decking is a great way to give structure to your outdoor space. There are a couple of types we can recommend: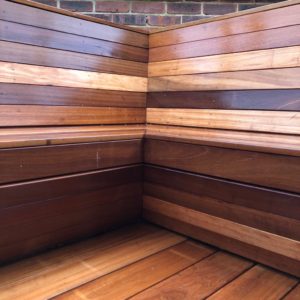 • 
Composite decking
– high-quality, low-maintenance, and no oiling or sanding needed • 
Timber decking
– a choice of softwood or hardwood, depending on the finish you're after The choice of colour will determine the overall look, whether you prefer a more traditional look with brown tones, a modern look with grey tones, or a rustic look with a whitewash finish. If you really want to show off, opt for raised decking to add depth. Or, if you're going all out, what about a pergola?
Brighten up your space
To create ambience, you need lighting. String lighting is perfect for a party, while lanterns and candles are ideal for cosying up for a relaxed evening. Alternatively, spotlights are a smart way to highlight your rooftop. The great part is you choose the lighting to suit your mood. We love the effect the spotlights give to one of our decking installations
here
on this Islington roof terrace.
Create privacy
Fencing is a great way to create your own secret escape. Bamboo fencing provides an exotic-twist, while horizontal fencing gives a more modern look. Of course, if privacy isn't an issue, there's always the option of glass fencing. Practical considerations include the height and whether it's a requirement for your rooftop or purely for decorative purposes.
Lawns aren't just for gardens...
Too right! Building a section of lawn on your rooftop garden is one way to make an impact and if you opt for artificial grass, requires very little maintenance. We appreciate not everyone will have the space for this, but for those who do, it's a special addition. We installed artificial grass and decking in this roof terrace garden in Kensington, see
more photos here
.
Enjoy a water feature
There's something very relaxing about the sound of a water feature. From pebble to ceramic, why not bring some relaxation to your rooftop? On a practical level, make sure your rooftop can handle the weight!
The finishing touches
Don't forget the all-important finishing touches! Here are some of our favourites: • Bring the indoors outside by laying a rug to complete the look • Create the illusion of more space with a mirror (or few) • Cushions, cushions and more cushions! • Display your favourite ornaments to give a personal touch • Create a mosaic using colourful tiles • Invest in a dining set so you can dine al fresco Now that you're brimming with inspiration and ideas, all that's left to say is… happy creating!