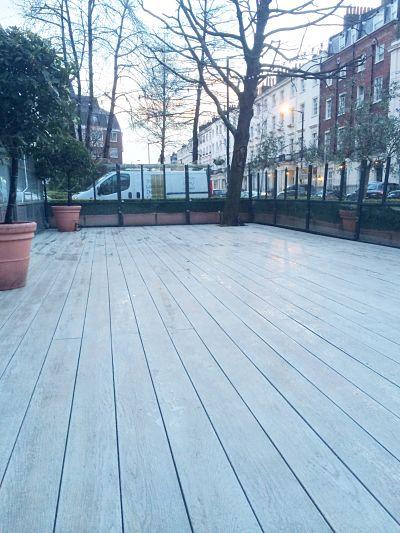 When it comes to summertime in the UK, having an al fresco dining area complete with outdoor decking timber can reap dividends. Whether you're running a café, restaurant, bar or hotel, the attraction of a
beer garden in London
is likely to increase footfall during the warmer periods of the year. However, it doesn't take a decking specialist to understand that
health and safety
is important for all business owners to bear in mind. During inclement weather, decking is at risk of becoming slippery, which of course increases the propensity for accidents to happen on your premises, in turn putting your business at an increased risk of litigation proceedings.
Non-slip decking: keeping your wood safe
To stop your existing decking from becoming a slip hazard, you should get into the habit of cleaning it as often as possible to stop any surface fungus from forming. A jet washer is perfect for this, but bear in mind that you will have to move any furniture or features such as plant pots to achieve a thorough clean, which could be time-consuming.
Converting to non-slip decking
If your business already has decking in place, perhaps the easiest way to make it safer for customers and staff is to install abrasive strips to your decking. It's possible to purchase self-adhesive grip strips and add these to your decking, but these might ruin the aesthetic of your outdoor area. It's worth bearing in mind that if your decking receives a lot of traffic during warm weather, these strips might even be a false economy, as the price of repeatedly replacing them coupled with the manual labour could leave you facing unnecessary expense.
Installing non-slip decking
If you haven't yet installed decking on your commercial project or are considering a refurb, you may want to consider
composite non-slip decking
. Most reputable composite decking companies will be able to offer advice on what type of decking will be best suited to your venture – even if you have your heart set on timber decking, you may be pleasantly surprised to learn that composite decking combines the aesthetic of traditional hardwoods with additional safety and durability. Composite non-slip decking is environmentally friendly, fade-resistant and generally comes with a long-lasting guarantee. Decking specialists like the London Decking Company will typically offer a 10-year warranty, allowing you to have complete peace of mind when ordering decking for your commercial premises.