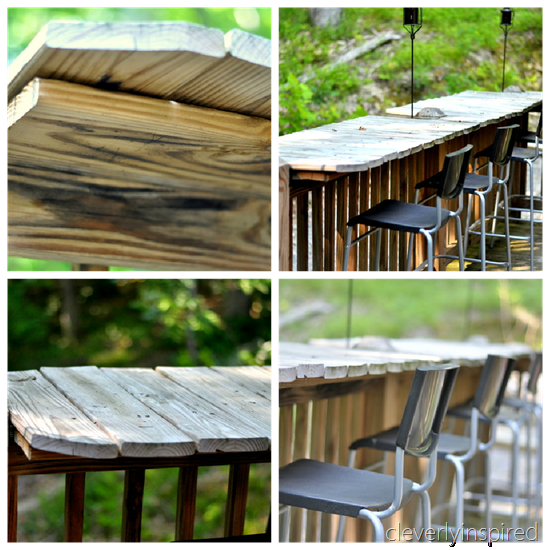 ARE YOU ITCHING FOR A DIY DECKING FURNITURE PROJECT? THE LONDON DECKING COMPANY HAVE COMPILED A LIST OF OUR FAVOURITE PROJECTS WITH TUTORIALS.
Old Tires into a Coffee Table
It's great to repurpose things that you may already have around the garden or tucked away in the garage. If you've had your car tires changed recently, let's hope you kept the old ones, as they actually make great DIY decking furniture! The best thing about a tire coffee table is that it's very customisable to your tastes. Prefer pastel tones? Paint your tires a dusky blue. Enjoy an urban feel? Leave them black and use interesting glass for the topped to throw some individuality into it, such as mirrored glass or even something mosaiced. Here is
the full tutorial from Madcap Frenzy.
Your Deck Railing into a Bar
Your deck railing doesn't have to simply be a safety feature. By adding some carefully cut wooden strips, you've created your very own outdoor bar, perfect for when you've got guests over for dinner and drinks! This is a simply project but one that will really enhance the way that you use your deck, year upon year.
CleverlyInspired walks through the process here.
An Old Chair into A Drinks Cooler
After you've constructed your bar, you'll need somewhere to keep the drinks. This ingenious drinks cooler, made from any old chair you can find, will not only add character to your deck but will keep your beers cool throughout the summer evenings. The hardest part will just be finding the right bucket and container, because you should keep in mind that you'll want to be able to life it out easily so you can empty the ice at the end of the night!
Take a look at the full project of OhMy!Creative.
Some Pallets into a Day Bed
This project is for the more hardy DIY decking furniture enthusiasts out there. If you're looking for a real construction project, this may be perfect for you. Are you finding that you only seem to be out on your decking when you're entertaining guests? Give yourself a reason to relax outside by yourself, with a book and an ice cold drink from your chair drinks cooler! This day bed made of pallets is entirely customisable, so you can construct yours to fit perfectly on your personal decking.
Find the step by step guide at Lovely Greens.